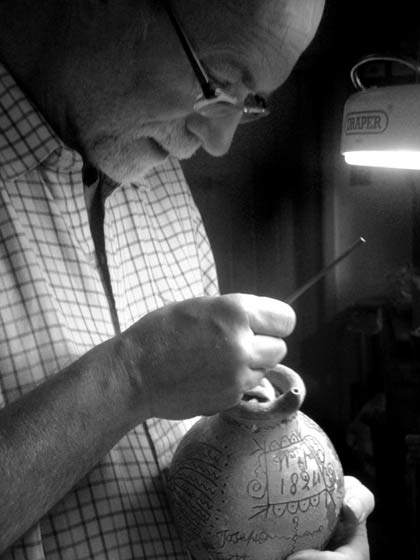 Peter Strong
Peter Strong commenced studies for a BA in Ceramics (Photography subsid.) in the late 1960s, firstly at the Colchester School of Art while working for two years part-time as technician and teacher with Joanna Constantinidis (Hans Coper and Lucy Rie trained) at the Chelmsford School of Art. After this, for three years he concentrated fully on the history of the Medieval and later English Country Potteries at the Camberwell School of Arts and Crafts in London, while also developing the endless manufacturing and production techniques required for successful pottery making. Strongly drawn to this subject he has remained resolutely committed throughout all his working life.
Commencing his degree coincided with the publishing, by Peter Brears (later a friend and colleague), of his books The English Country Potteries, and The Collectors Book of English Country Pottery, first published in the early 1970s. Motivated by all this history and marvellous books, he felt inspired, researching, manufacturing and teaching about the traditional Country Potteries for the next 5 decades, including working and production at the important historic pottery sites of Soil Hill, Halifax and Wetheriggs in Cumbria, all the while researching, collecting and restoring slipware and country pottery.
In later life he has been a visiting lecturer presenting demonstrations and advising at museums, colleges, schools and family history groups and has latterly taught ceramics and photography part time for over 10 years in a private school.
Currently, after waiting many years he finds himself at last concentrating on this website as well as an Instagram account as a form of retirement, and also embarking on writing about his years involved in country pottery.
He would like to thank his son Henry for enabling the setting up of this website and his younger son Tommy for all his administrative skills, it would have been impossible without their technical skills, knowledge, great humour and tireless support.